Dopper Insulated (350 ml) - Terracotta Tide
This terracotta thermos bottle keeps your water hot for 9 hours or cold for 24.
Lekvrij, krasvast en dubbelwandig vacuüm geïsoleerd.
Cradle to Cradle Certified™ Bronze.


Wil je iemand verrassen? Schrijf hieronder een persoonlijke boodschap. Mobiele gebruikers: tik op het icoon naast 'in winkelmand'.



The Dopper bottles are BPA Phthalate and lead free meaning there are no toxic or banned substances in the Dopper.

We use the Cradle to Cradle concept. We maximize recycling and minimize destruction.

80 tons of plastic would never see the light of day by using a reusable bottle like Dopper.
The sustainable drinking bottle for tap water
But let's not pussyfoot around here. We're all perfectly aware you eased into the Dopper webshop because you think… correction, know the Dopper water bottle is just one truly awesome design. Out the corner of your eye you probably witnessed all the girls going weak at the knees over that cool dude chugging it down at the gym, or how the most popular operator at college was casual, carelessly flaunting a Dopper during the break. Our selection consists of a colorful family of water bottles sporting numerous characters. Ordering couldn't be simpler: choose your Dopper bottle in the color of your choice and pay safely via iDeal or credit card. Trouble choosing? Why not order an extra bottle and link up the different parts. Or buy a Dopper as a gift for a friend, family member or to impress your date, at the same time boosting your karma points.
Eén fles. Alle seizoenen.
Wat het weer ook doet, de 350 ml Dopper Insulated Terracotta Tide is de perfecte handlanger waarmee jij voor water uit de (warmwater-)kraan kiest. Wind, hagel of een meter sneeuw: in deze terracotta thermosfles blijft je water, thee of koffie 9 uur warm of 24 uur koud. En blijf jij bijdragen aan het redden van onze oceanen. Het. Hele. Jaar.

De roestvrijstalen body is afgewerkt met een duurzame powercoating. Vertaling: ziet er geweldig uit en is bestand tegen krassen. De kers op de taart? Dankzij het driedelige ontwerp is je Dopper gemakkelijk te vullen en schoon te maken. Door jou, of door je vaatwasser (op max 65 graden).
Fles met een missie
Dopper is een Certified B Corporation: we gebruiken zakendoen als een kracht voor het goede. Elke verkochte fles vermindert plasticvervuiling en biedt toegang tot schoon drinkwater in Nepal. In 2020 lanceerden we de Dopper Wave – een wereldwijde beweging van individuen, bedrijven en organisaties die zich inzetten tegen plasticvervuiling door wegwerpwaterflessen uit hun leven, kantoren en evenementen te bannen.
Duurzaamheid 
Dopper Insulated wordt op verantwoorde wijze in China geproduceerd volgens de BSCI Code of Conduct. 
Vervoerd met uitsluitend biobrandstoffen, dankzij onze samenwerking met GoodShipping.
Ons doel is bijdragen aan een circulaire economie. Daarom is deze waterfles Cradle to Cradle Certified™ Bronze. 
Specificaties 
Thermosfles
Dubbelwandig vacuüm geïsoleerd
Geschikt voor warm en koud water
Koffie en thee kunnen vlekken en geurtjes veroorzaken
Afmetingen en gewicht
Inhoud 350 ml 
Diameter 6 cm 
Hoogte 23,6 cm
Gewicht 270 gr 
Materialen
18/8 roestvrijstaal (body en cap)
PP — Polypropyleen (cap)
Tritan (cup)
Siliconen (seal in cap and cup)
BPA en Ftalaat vrij
Nog een trapje hoger?
Check de Dopper Carrier waarmee je je kraanwater altijd aan je zijde hebt, waar het leven je ook brengt.
Customer Service
Lees meer over onze bezorgopties.
Nog andere vragen? Raadpleeg ons helpcentrum.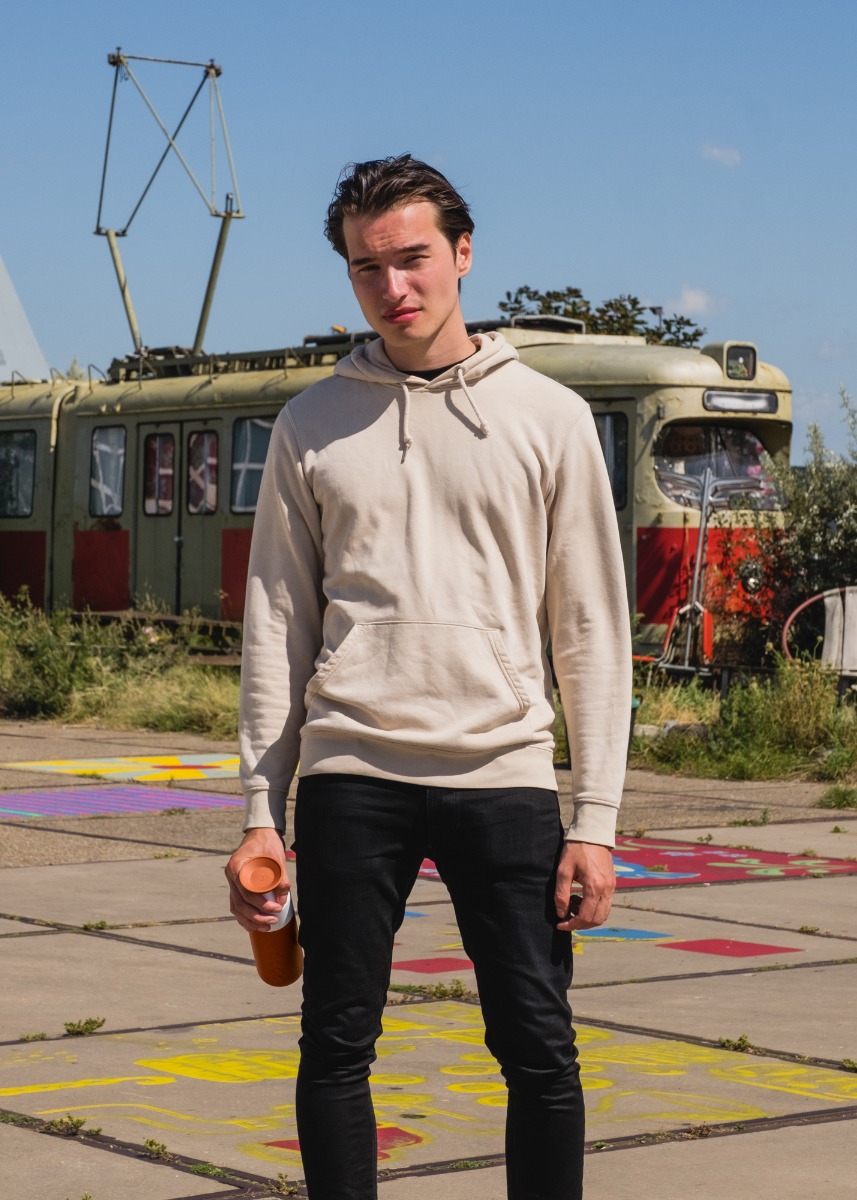 Terracotta Tide thermosfles
Hier is 'ie dan. De Dopper waar je op wachtte. Een thermosfles met oceaanreddende krachten. Deze fles helpt je kiezen voor herbruikbaar met elke slok die je neemt. Of het nu bloedheet is buiten, of ijskoud, de Dopper Terracotta Tide staat voor je klaar. Durven we te zeggen dat het de beste thermosfles is die er is? We doen het gewoon.