Dopper Original - Pacific Blue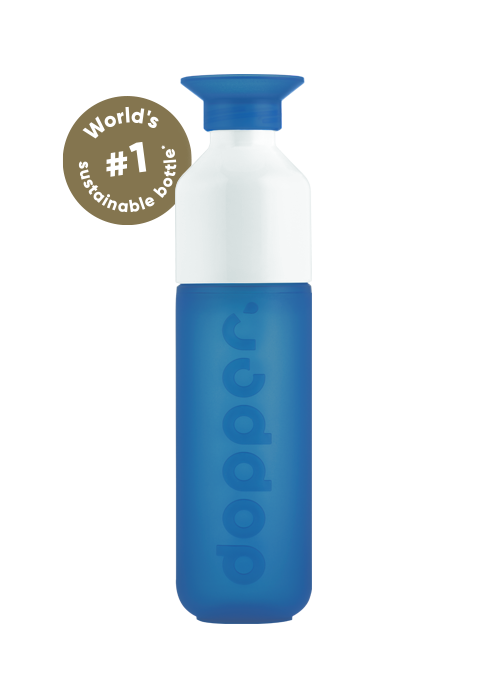 | | |
| --- | --- |
| | Meet the Dopper Original: the world's first Cradle to Cradle Certified® Gold bottle collection. |
| | Made with waste. 70% plant-based waste, 15% recycled plastic waste. |
| | A sustainable frontrunner: the Dopper Original Pacific Blue has zero carbon footprint. |

Want to surprise someone? Write a personal message below and we'll make sure to print your card and deliver it as a message in the bottle. Mobile users: tap the icon next to 'add to basket'.

The Dopper bottles are BPA Phthalate and lead free meaning there are no toxic or banned substances in the Dopper.

We use the Cradle to Cradle concept. We maximize recycling and minimize destruction.

80 tons of plastic would never see the light of day by using a reusable bottle like Dopper.
The sustainable drinking bottle for tap water
But let's not pussyfoot around here. We're all perfectly aware you eased into the Dopper webshop because you think… correction, know the Dopper water bottle is just one truly awesome design. Out the corner of your eye you probably witnessed all the girls going weak at the knees over that cool dude chugging it down at the gym, or how the most popular operator at college was casual, carelessly flaunting a Dopper during the break. Our selection consists of a colorful family of water bottles sporting numerous characters. Ordering couldn't be simpler: choose your Dopper bottle in the color of your choice and pay safely via iDeal or credit card. Trouble choosing? Why not order an extra bottle and link up the different parts. Or buy a Dopper as a gift for a friend, family member or to impress your date, at the same time boosting your karma points.
World's #1 sustainable reusable water bottle
World's first Cradle to Cradle Certified® Gold bottle collection: from design to end of life, your ocean-saving bottle meets the toughest environmental and ethical standards.
Zero carbon footprint: thanks to 85% upcycled materials and production in a Dutch factory which runs on 100% renewable energy, the Dopper Original has zero carbon footprint.
Zero water waste: the water used for production is kept in a closed loop and is not discharged into the environment.
The Dopper Original is manufactured in the Netherlands using wind energy.
Channelling our Dutch roots, webshop orders are delivered by bicycle to 60 cities in the Netherlands.
100% recyclable at end of life.
How to use
Dishwasher safe (up to 65 °C)
Lightweight for on the go
Three-part design: easy to fill, easy to take apart for cleaning, and turns the top half of the bottle into a cup
Dimensions and weight
Holds: 450 ml
Diameter: 6 cm
Height: 24 cm
Weight: 101 grams
Materials
CirculenRenew - PP (bottle and cap) - 100% bio-based material*
Tritan Renew - Copolyester (cup) - 50% recycled*
Thermolast - TPE (seal rings)
Free of BPA and other harmful chemicals
*Certified mass balance system
Wondering how a bottle containing plastic can fight plastic pollution? Let us explain.

Want to level up?
Check out the Dopper Carrier or Dopper Sport Cap so you can choose reusable wherever you are, whatever you're doing.
Customer Service
Discover our delivery options. 
Any other questions? Check our help center.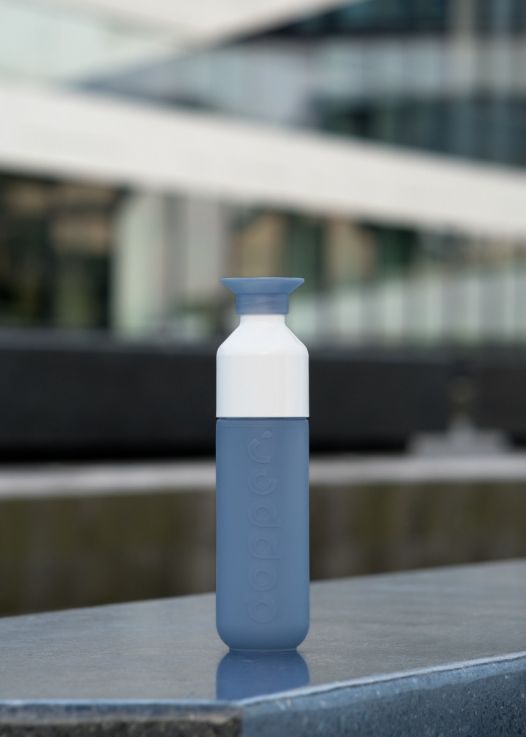 The Original Trailblazer
Leading the fight against single-use plastic.
Dopper Original. The best reusable bottle on the planet, for the planet. Born to raise awareness about the environmental disaster called single-use plastic water bottles. And to raise a little hell while doing it. Ahead of the game since 2010, this water bottle is an industry game changer. Leading the way time and time again with unprecedented sustainability credentials, award-winning design and colours that would make Van Gogh jealous. This Pacific Blue bottle will have you blazing ahead wherever you go, spreading an ocean-saving message that cannot be ignored.