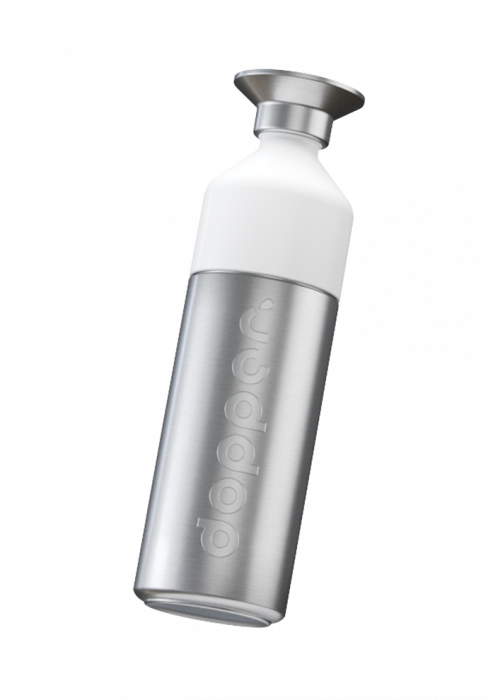 Fight plastic pollution with this perfect-sized stainless steel water bottle for any adventure.

Strong yet lightweight

stainless steel

body and total weight of only 206 grams.

 

The

Dopper

Steel is Cradle to Cradle Certified™ Bronze.

 


Want to surprise someone? Write a personal message below. Mobile users: tap the icon next to 'add to basket'.

The Dopper bottles are BPA Phthalate and lead free meaning there are no toxic or banned substances in the Dopper.

We use the Cradle to Cradle concept. We maximize recycling and minimize destruction.

80 tons of plastic would never see the light of day by using a reusable bottle like Dopper.
The sustainable drinking bottle for tap water
But let's not pussyfoot around here. We're all perfectly aware you eased into the Dopper webshop because you think… correction, know the Dopper water bottle is just one truly awesome design. Out the corner of your eye you probably witnessed all the girls going weak at the knees over that cool dude chugging it down at the gym, or how the most popular operator at college was casual, carelessly flaunting a Dopper during the break. Our selection consists of a colorful family of water bottles sporting numerous characters. Ordering couldn't be simpler: choose your Dopper bottle in the color of your choice and pay safely via iDeal or credit card. Trouble choosing? Why not order an extra bottle and link up the different parts. Or buy a Dopper as a gift for a friend, family member or to impress your date, at the same time boosting your karma points.
The perfect 800 ml stainless steel water bottle for your next adventure 
Ditch single-use plastic water bottles and fight plastic pollution with every sip 

 

At 206

 grams, this 800 ml

 reusable bottle weighs less than your phone

 

Strong stainless steel body 

 

Iconic three-part design: bottle and cup in one for easy filling, cleaning, storing and sharing. 

 

Endlessly refillable with tap water. Add

ice cubes

or fruit using the

wide mouth

.

 

Dishwasher safe

up to 65C

Please note: this is not a thermos bottle

 
Sustainability 
Cradle to Cradle Certified™ Bronze: the global standard for safe, circular and responsible products.

 

Responsibly produced in China according to the BSCI Code of Conduct. 

 

Sea transportation using biofuel as part of the GoodShipping program.

 

Stainless steel body made with 30% recycled steel.

 

By using a Dopper bottle you can prevent 40

single-use plastic bottles

from entering our oceans each year.

 
Specifications 
Dimensions and weight 
Holds 800 m

l

 

Diameter: 7,3

 cm

 

Height: 25

 cm

 

Weight: 206

 grams

 
Materials 
18/8

Food Grade Stainless Steel

(body and cap)

 

Tritan (cup)

 

PP (cap)

 

TPE (seal ring in cap)

 

Silicone (seal ring in cup)

 

BPA-free

and phthalate-free 

 

 

 
Want to level up? 
Check out the Dopper Carrier or Dopper Sport Cap so you can choose reusable wherever you are, whatever you're doing. 
Discover our delivery options. 
Any other questions? Check our help centre.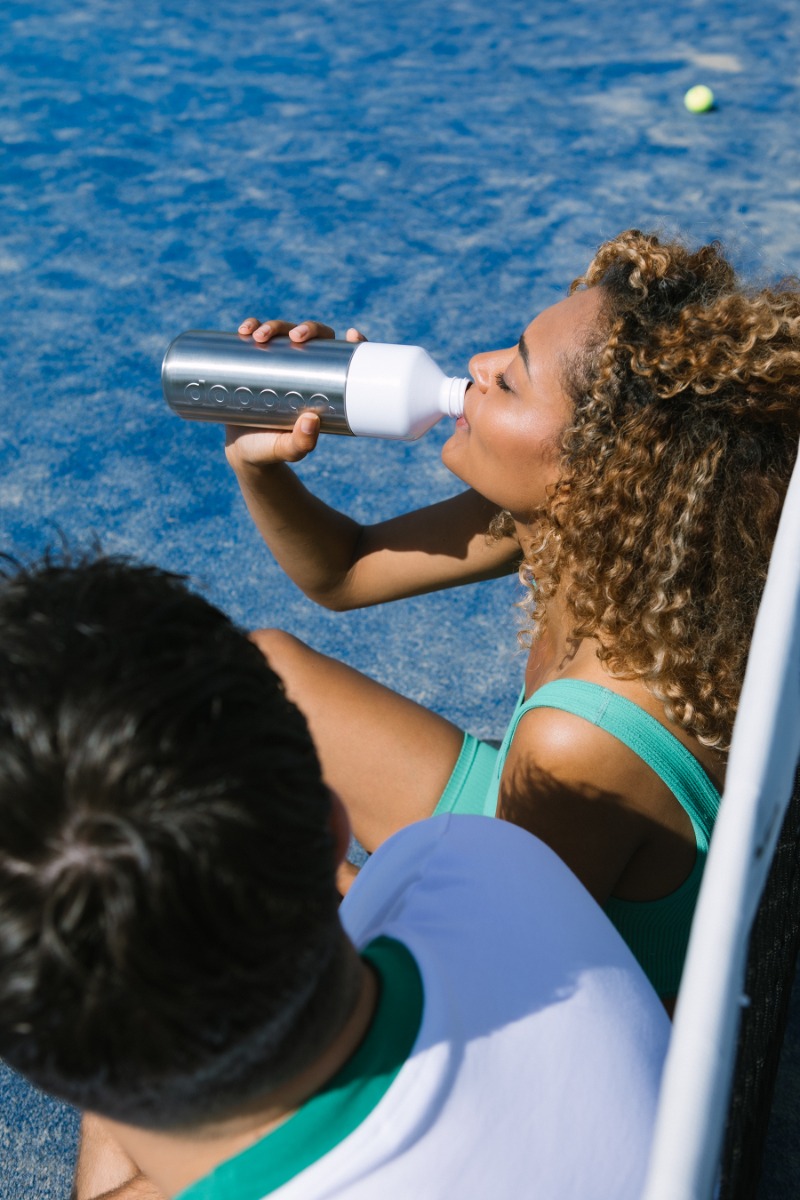 Buy Dopper Steel
This steel water bottle fits you 'cause you're the Director General and the buck stops here. Or perhaps you enjoy extreme sports, preferably something with lots of mud, sweat and tears; bungee jumping, white water rafting or walking the streets of Glasgow after dark. Although a body balance lesson or an hour of XCO might also appeal. At the gym the lights dim and the air conditioning splutters the moment you arrive on the floor with your steel Dopper a la sport cap. You of course wear this steel sport water bottle with as much panache as you do your six-pack. Alternatively, you can use this tough-to-the-core sustainable water bottle as a decoy for your slightly less disciplined 'no-pack'.
SUSTAINABLE STEEL WATER BOTTLE

This sneaky steel number is sustainably produced in China. Fortunately, these days things are produced much better than many people usually associate with Chinese production processes. We have negotiated and concluded a variety of agreements with the production company to include a 'code of conduct' setting out a number of basic standards and values. Result: producers happy, you happy, karma happy, everybody happy! Smiles all round… check!