Dopper Original - Pure White
Pure, honest and transparent; words that perfectly describe our Pure White Dopper. The virginal white water bottle shines like the driven snow on alpine slopes; crisp and mint fresh. 
Want to surprise someone with an actual message in a bottle? Write your personal message in the text box (mobile users: click on the icon next to 'add to basket').

The Dopper bottles are BPA Phthalate and lead free meaning there are no toxic or banned substances in the Dopper.

We use the Cradle to Cradle concept. We maximize recycling and minimize destruction.

80 tons of plastic would never see the light of day by using a reusable bottle like Dopper.
The sustainable drinking bottle for tap water
But let's not pussyfoot around here. We're all perfectly aware you eased into the Dopper webshop because you think… correction, know the Dopper water bottle is just one truly awesome design. Out the corner of your eye you probably witnessed all the girls going weak at the knees over that cool dude chugging it down at the gym, or how the most popular operator at college was casual, carelessly flaunting a Dopper during the break. Our selection consists of a colorful family of water bottles sporting numerous characters. Ordering couldn't be simpler: choose your Dopper bottle in the color of your choice and pay safely via iDeal or credit card. Trouble choosing? Why not order an extra bottle and link up the different parts. Or buy a Dopper as a gift for a friend, family member or to impress your date, at the same time boosting your karma points.
No part of your life is vague or obscure, your up-front honesty and transparency is as revealing as this drinking bottle. As nothing is more neutral than white, it's the perfect base for fresh water cocktails. Did you know we have our very own exclusive recipe booklets chock full of ideas for these?

General
Holds 450 ml / 15 oz
Very easy to clean
Dishwasher safe up to 65°C
Manufactured in the Netherlands
Suitable for tap water
Materials
PP - Polypropylene (bottle and cap)
ABS - Acrylonitil Butadieen Styreen (cup)
TPE - Thermoplastic Elastomer (gasket in cap & cup)
Approvals
BPA/plasticizer and toxin-free

Cradle to Cradle certified
Want to level up?
Check out the Dopper Carrier or Dopper Sport Cap to take your bottle to a whole new level.
Discover our delivery options. 
Any other questions? Check our helpcenter.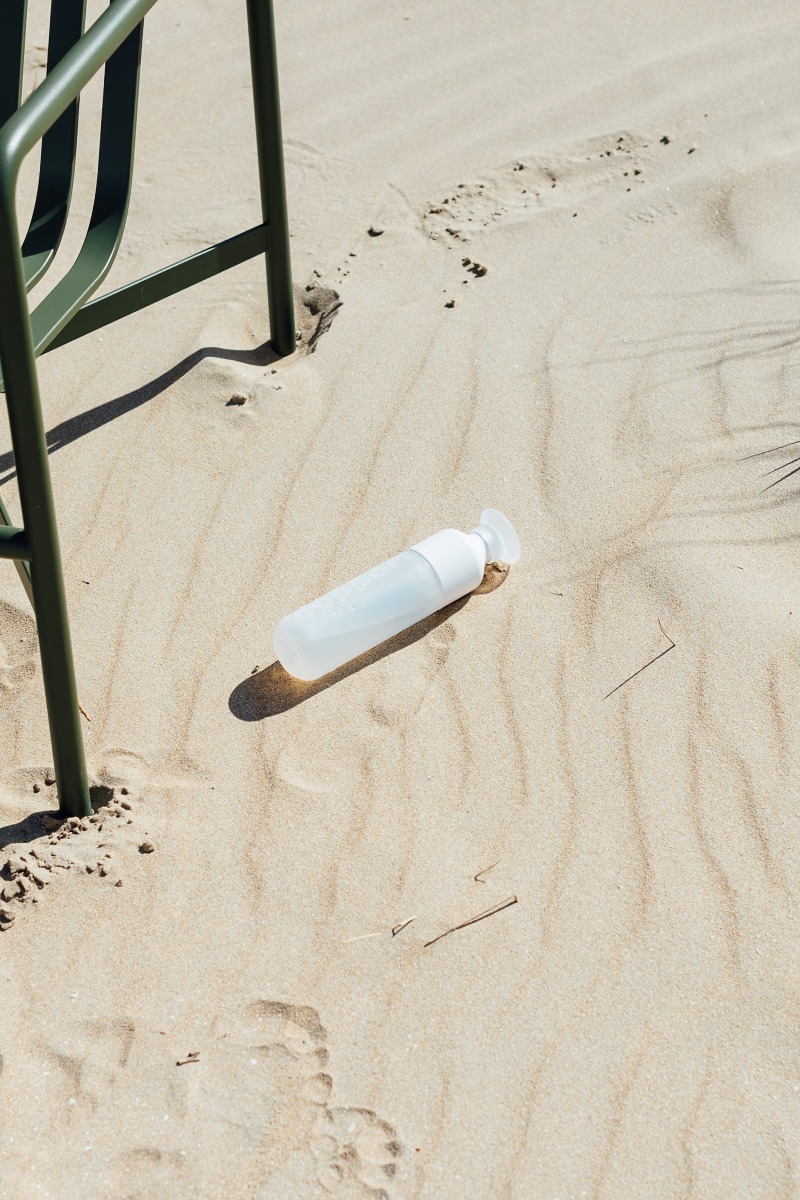 BUY DOPPER WHITE
White is everyone's color. Who doesn't identify with innocence, generosity and fun? It needs no explanation that our transparent drinking bottle can be endlessly combined with the rainbow colors of our selection. Introduce red to the white for example, and how many football club colors do you have? Swap allegiance mid competition to ensure you're always on the winning side. Spring fever? With a transparent bottle and a yellow cap you'll have daffodils swaying forever. And hey, Popeye, combine Cool Blue with Pure White for the perfect sailor outfit.
SUSTAINABLE WHITE WATER BOTTLE
When you've made the Dopper Original Pure White your very own, you're not only guaranteed a partner for life, but also deposit big time in the karma bank. Buying a white Dopper bottle directly supports the Dopper Foundation. Our foundation finances water and sanitation projects in Nepal through the charitable organization Simavi and their local partner NEWAH. The foundation also organizes the Dopper Academy which runs educational programs on water and (plastic) waste.