Dopper Original - Pink Paradise

C'mon Barbie, let's go party! This pink Dopper is the crowning glory of your princess-hood, the glitter with the glamour, the strawberry in your daiquiri. You don't need steroid-stud Shawn or Ken in his pink Beach Cruiser, with this pink water bottle, you can take on any adventure.
Want to surprise someone with an actual message in a bottle? Write your personal message in the text box (mobile users: click on the icon next to 'add to basket').

The Dopper bottles are BPA Phthalate and lead free meaning there are no toxic or banned substances in the Dopper.

We use the Cradle to Cradle concept. We maximize recycling and minimize destruction.

80 tons of plastic would never see the light of day by using a reusable bottle like Dopper.
The sustainable drinking bottle for tap water
But let's not pussyfoot around here. We're all perfectly aware you eased into the Dopper webshop because you think… correction, know the Dopper water bottle is just one truly awesome design. Out the corner of your eye you probably witnessed all the girls going weak at the knees over that cool dude chugging it down at the gym, or how the most popular operator at college was casual, carelessly flaunting a Dopper during the break. Our selection consists of a colorful family of water bottles sporting numerous characters. Ordering couldn't be simpler: choose your Dopper bottle in the color of your choice and pay safely via iDeal or credit card. Trouble choosing? Why not order an extra bottle and link up the different parts. Or buy a Dopper as a gift for a friend, family member or to impress your date, at the same time boosting your karma points.
To the beach, the pool or simply the pond in the park; It doesn't matter where you go, as long as it has something to do with water. Because that makes you shout out ''ah-ah-ah-yeah!''

General
Holds 450 ml 
Very easy to clean
Dishwasher safe up to 65°C
Manufactured in the Netherlands
Suitable for tap water
Materials
PP - Polypropylene (bottle and cap)
ABS - Acrylonitil Butadieen Styreen (cup)
TPE - Thermoplastic Elastomer (gasket in cap & cup)
Approvals
BPA/plasticizer and toxin-free

Cradle to Cradle certified
Want to level up?
Check out the Dopper Carrier or Dopper Sport Cap to take your bottle to a whole new level.
Discover our delivery options. 
Any other questions? Check our helpcenter.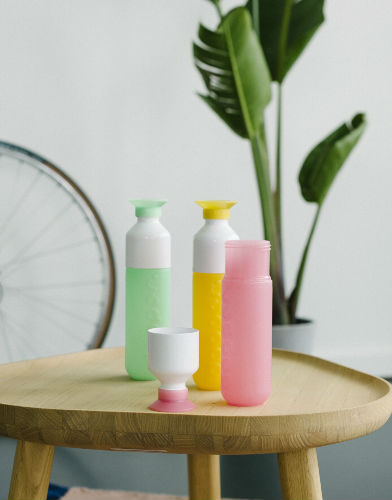 BUY DOPPER PINK
You are the beauty and the brains. You know: life in plastic ain't fantastic. That's why you refill this pink Dopper bottle with tap water. So not only do you save money, but also around 40 plastic bottles a year! Desperately needed, because each year, around 8 billion kilos of plastic waste ends up in our oceans. For the right side of your brain: that's equal to the weight of around 2 billion flamingos. Not funny! This durable pink water bottle is free of BPA and other plasticisers and awarded a silver Cradle2Cradle certificate. That's like the Oscars for sustainable production procedures.
SUSTAINABLE PINK WATER BOTTLE
With the purchase of this pink Dopper, you instantly support the Dopper Foundation's projects. Funded by 5% of it's net sales turnover, the Dopper Foundation invests in research and gaining more information on the plastic in our oceans. Because there are many more great initiators who are concerned about the reduction of that plastic soup. In addition, you will help around 10,000 Nepalese people in getting clean drinking water during the next three years, because the Dopper Foundation also supports the Simavi drinking water projects in Nepal. Hero!